A dental bridge is a fixed prosthetic device that is used to replace one or more missing teeth. It is made up of two crowns, one on either side of the gap left by the missing teeth, and one or more false teeth (called pontics) in between.
Table of Contents
So What Is
A dental bridge is a construction of two crowns, between which artificial teeth are located.
Dental bridges are non-removable prosthetics, that is, they cannot be removed on their own, without the help of a doctor. The prostheses are fixed on the abutment teeth, replacing the missing units in the middle part.
The main design details are artificial teeth – more precisely, their crown parts – and retainers, by means of which the dental bridge is securely attached in the oral cavity.
Fixing attachments of the bridge can be represented directly by dental crowns, put on the abutment teeth, inlays and clasps – iron brackets. In some cases, the design is supplemented with an element that mimics the gum tissue.
Types and Methods
There are 3 types of bridge connections:
Washing (temporal). There is a slight gap between the dental bridge and the gums, which is not conspicuous, but greatly facilitates cleaning. In addition, food debris does not get stuck under the denture;
Tangent. The prosthesis touches the gums, as if passing along one tangent line. This type of dental bridge is relevant in the smile zone, since it does not interfere with normal conversation, is available for cleaning with a toothbrush and looks good externally;
Saddle. The bridge is very tight to the gums.
Types of dental bridges:
Dental bridges are classified according to material and manufacturing technology. The raw materials for bridges can be:
metal;
cermet;
ceramics;
zirconium dioxide;
polymers.
Depending on the manufacturing technology, dental bridges are classified into the following types:
Adhesive, which are mainly used for prosthetics of 1 dental unit. This type of bridge has a fiberglass arch frame with a crown located on it. The adhesive structure is placed on the halves or even quarters of the crowns and fixed to the abutment teeth with special glue;
Classic, when the supporting units are completely covered with crowns.
Treatment Plan
1. Day:
Personal consultation with your treating doctor in your clinic and detailed examination of the teeth to be treated. The vitality and stability of the tooth root is checked. The preconditions for a dental bridge are that the abutment teeth are strong and have healthy tooth roots so that they can provide sufficient support for the bridge. Both your gums and jawbone must be free of inflammation.
Panorama X-ray of your teeth
Digital simulation of before and after pictures
Decision on the color and material of the bridge
Measuring of the teeth so that the dental bridge can be prepared accordingly. An impression is taken for this purpose. The dental technician needs this for the accurate fabrication of your dental bridge.
Preparation of the teeth for the placement of the dental bridge. Preparation of the pontic teeth for the insertion of the bridge. The teeth that serve as bridge abutments must be ground down and crowned. The procedure is performed under local anesthesia, so you will not feel any pain.
Until the new bridge is ready, you will receive a temporary dental bridge.
Afterward, you can relax, rest in the hotel and enjoy the Spa!
2. Day:
Your new dental bridge is ready now!
Removal of the temporary bridge
Thorough cleaning of the tooth
Insertion and fixation of the new dental bridge
Checking if the bridge causes any sensation of pressure or pain and correction it if necessary.
You will not feel any pain as the entire procedure is performed under local anesthesia.
Take a look in the mirror now! Are you amazed by your new teeth?
Final interview with your treating doctor. You will be informed about what you should keep in mind for the next few days.
Your treatment is finished.
Dental Bridges for:
Those, who wants to restore the appearance and function of their dentures.
Those with strong, healthy teeth on either side of the gap between your teeth.
Dental Bridges Recovery Timeline:
Any minor pain caused by the placement of the bridge should disappear after a few days.
Possible risks for Dental Bridge:
Infection
Scarring
Allergic reaction to anesthetic or restorative material
Increased risk of decay of abutment teeth
Pulp damage or death from tooth loss
Aftercare
Of course, we will also take care of you after your treatment!
Our medical consultants will take care of you during 1 year after the surgery.
If you need any assistance, if you have questions, you can contact our staff anytime.
Dental Bridge Healing Process
The healing process will not take a long time.
Since the procedure is performed under local anesthesia, you will not feel any pain. You may experience some sensitivity in the mouth area for the first few days after the new bridge is placed. However, this can be easily handled with conventional painkillers and will disappear within a very short time.
Please do not eat anything until the local anesthesia has completely worn off. Otherwise, you run the risk of biting yourself.
Oral hygiene and regular brushing is very important. Take care of your teeth as usually. You should use dental floss to remove all food particles.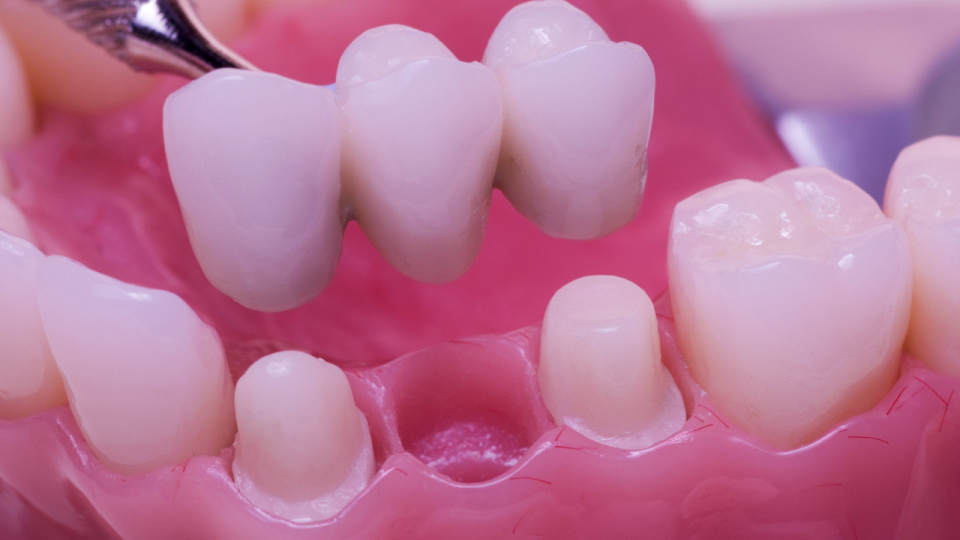 Top dental bridge costs by country
The cost of a dental bridge depends on the experience of the dentist, the brand and material used and the clinic or hospital you choose.
The prices listed below are intended to give you an approximate idea and are not a final quotation. Your MedClincs consultant will be happy to provide you with details.
| | | |
| --- | --- | --- |
| Country | Price | Rating |
| Turkey | ~ 150 € | ★★★★★ |
| Mexico | ~ 287 € | ★★★★ |
| UK | ~ 584 € | ★★★ |
| Russia | ~ 627 € | ★★★ |
| USA | ~ 1500 € | ★★★ |
| Australia | ~ 2000 € | ★★★ |
FAQ
Why is a dental bridge cheaper in Turkey?
In Turkey, salary and living costs are lower than in Europe, and the government subsidizes the health sector. Therefore, dental treatment in Turkey can be done at a much lower cost without sacrificing quality and standard.
Is it safe to have dental treatment in Turkey?
With over 1.5 million medical tourists per year, Turkey is one of the three world leaders in health tourism. The healthcare system in Turkey is strictly monitored and regulated to ensure the best quality and highest standard of treatments. Experienced doctors together with a professional team take care of the patients in a professional and competent way. It is safe to undergo dental treatment in Turkey.
What are the advantages of dental treatment in Turkey?
You save money and costs, benefit from international quality and avoid long waiting times. In Turkey, you get the appointment for your dental treatment at short notice, in Germany you have to wait weeks. Our contract clinics work closely with laboratories and dental technicians, some of them have their own laboratories. Thus, the production of dental bridges in just a few days is no problem. The short flight time from Europe is another advantage.
Are there good dentists in Turkey?
Turkey is one of the best countries for dental treatment. On the list of top ten dental tourism countries, Turkey ranks fourth after Poland, Hungary and the Czech Republic. With approximately 86 million population, Turkey ranks 17th in the world in terms of population. Doctors have a lot of practical experience compared to other countries, which makes them competent professionals.
What are the equipment of the clinics where dental treatment is done in Turkey?
Our clinics offer the comfort of a 5-star, high-class hotel. The medical equipment meets international standards of the highest level. Across Turkey, 600 clinics have been awarded the coveted JCI certificate, which attests to safe and effective treatment methods, structured working methods and comfortable conditions. In comparison, fewer than 10 clinics in Germany hold this certificate.
Is dental bridge treatment painful?
Since the procedure is performed under local anaesthesia, you will not feel any pain. You may experience some sensitivity in the mouth area for the first few days after the new bridge is placed. However, this can be easily handled with conventional painkillers.
How long do dental bridges last?
The durability of a dental bridge depends primarily on the material used. Oral hygiene and regular brushing and flossing also have an effect. As a rule, it can be estimated that bridges will last for at least 10 years on average.
When do I need a dental bridge?
Dental bridges are used to close a gap between two healthy teeth. To ensure the stability of the dental bridge, one missing tooth, at most two, is usually bridged over. If more teeth are missing, implants are a good option.
What is a dental bridge consist of?
The healthy teeth to the right and left of the gap that support the bridge are called abutment teeth. These teeth are crowned and in their middle is a false tooth, that fills the gap.
When can I see the result?
Are you curious about how your teeth look with your new bridge? Just take a look in the mirror! The result is IMMEDIATELY visible! You will leave our clinic with the perfectly aesthetic teeth you have always dreamed of!
History
Dental prosthetics have been known since BC.
During the excavations of the ancient city of Sidon (III-IV centuries BC), artificial teeth were also found in the woman's coffin, which could be called the prototype of modern bridges. Fastening of artificial teeth with gold wire, as well as threads from other materials, are among the earliest methods of fixing prostheses.
In the tombs of the Etruscans (IX-VI centuries BC), more modern gold prostheses were found, reinforced with gold rings or stripes. In the Roman Laws of the Twelve Tables (5th century BC), there are indications of the use of gold wire for splinting.
The 11th century Arab physician Abulkasem (936-1013) rightly assessed dental prosthetics as a medical science.
Giovani Arkone (early 15th century) filled cavities with sheet gold.
Ambroise Paré (1517-1590, Paris) is a 16th century surgeon – he replaced missing teeth with artificial ones made of bovine or ivory, reinforcing them with gold wire. He made the first attempt to replace the defects of the hard palate with an obturator.
In 1728 – Pierre Fauchard's guide to dentistry "Dental surgery or a treatise on teeth" was published. He was responsible for the development of a method for attaching complete removable dentures with springs, he improved the palatal obturator by connecting it to the prosthesis.
Types of Dental Treatment:
You might also be interested in ...
Get your free consultation