If you are looking for a way to get rid of annoying fat pads forever, CoolSculpting may be the most suitable option for you.
CoolSculpting is a body contouring procedure that helps eliminate stubborn fat cells in the body. It uses a technique called cryolipolysis. It is a non-surgical alternative to procedures such as liposuction as it does not involve incisions.
This technique involves exposing fat cells to controlled cooling temperatures. By freezing them, it causes them to undergo a natural process of cell death known as apoptosis.
Over time, the body's natural metabolic processes eliminate dead fat cells in the treated area. This results in a more shapely and contoured appearance.
CoolSculpting is typically for areas such as the abdomen, flanks (love handles), thighs, upper arms, chin and back. These areas contain localised fat deposits that are resistant to diet and exercise.
It carries potential risks such as paradoxical adipose hyperplasia, pain or discomfort, skin-related issues, unpredictable results, and rare complications like skin ulceration or scarring.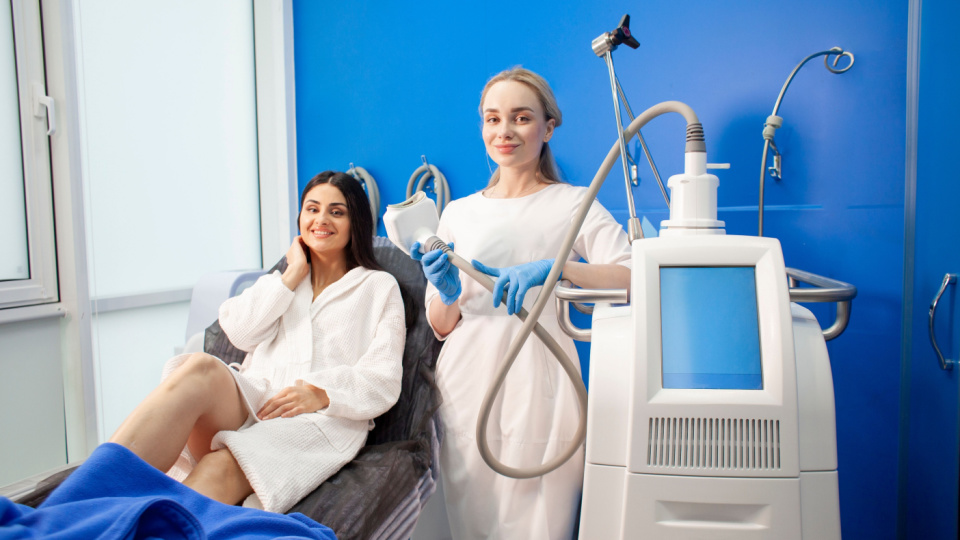 Most popular clinics for CoolSculpting
Turkeyana Clinic considers beauty as a universal principle of soul and body and a "natural, integrated image".
The Clinic has performed over 9,000 procedures and treated many thousands of patients from all over the world.
"Fidel" means " loyalty" in Latin. The clinic has the vision and principle of understanding and meeting the physical and psychological needs of patients.
FAQ
What is CoolSculpting or Cryolipolysis?
Cryolipolysis is a method used to break down fat tissue in people with weight problems or regional excess fat. It is a non-surgical procedure that reduces fat, especially in areas such as the abdomen, back, inner thighs, and hips. It cools unwanted excess fat tissue to a certain degree and ensures that it is removed from the body without damaging other cells.
What is the difference between Cryolipolysis and CoolSculpting?
CoolSculpting is scientifically called cryolipolysis. It is a brand name and at the same time the only one that is FDA approved. Cryolipolysis refers to the process as such. "Cryo" means icy cold and "lipolysis" means fat loss. This is exactly what happens with CoolSculpting: fat is frozen.
How is Cryolipolysis performed?
First, in order to protect the body, the area to be treated is predetermined, and a protective covering is placed there. A part of the device specially designed for this procedure is placed on the body of the person where the regional fat deposits are located, and the session is started.
Is it safe to have Cryolipolysis treatment in Istanbul?
With over 1.5 million medical tourists per year, Turkey is one of the three world leaders in health tourism. The healthcare system in Turkey is strictly monitored and regulated to ensure the best quality and highest standard of treatments. Experienced doctors together with a professional team take care of the patients in a professional and competent way. Your treatment will be done by a professional dermatologist. Therefore, it is safe to get Cryolipolysis treatment in Istanbul, Turkey.
When can I see the result?
You can see the first results after about 2-3 weeks. The more fat cells are eliminated from the body during the following months, the better the result is visible. The final result is visible several months after the treatment.
Does Cold Lipolysis cause any damage or have any side effects?
No analysis is required before the procedure. It has no side effects on any part of the body.
How many Cryolipolysis Sessions are needed?
1 session of cryolipolysis is usually sufficient. In some cases, it may be necessary to repeat the session according to the needs in the region.
Who cannot have Cryolipolysis? 
People with liver and kidney disease, umbilical hernia, cancer and AIDS patients, people with uncontrolled diabetes, low blood protein disease, skin diseases, such as psoriasis, and cardiovascular disease are not suitable for cryolipolysis. Also, it is not suitable for men and women under the age of 18.
Can Cryolipolysis be done while menstruating?
Since there can be errors in the measurements, female patients should not be on their menstrual period.
Contact us now in case you have any questions!
Types & Methods of Liposuction:
Types of Plastic & Aesthetic Surgery:
Get your free consultation