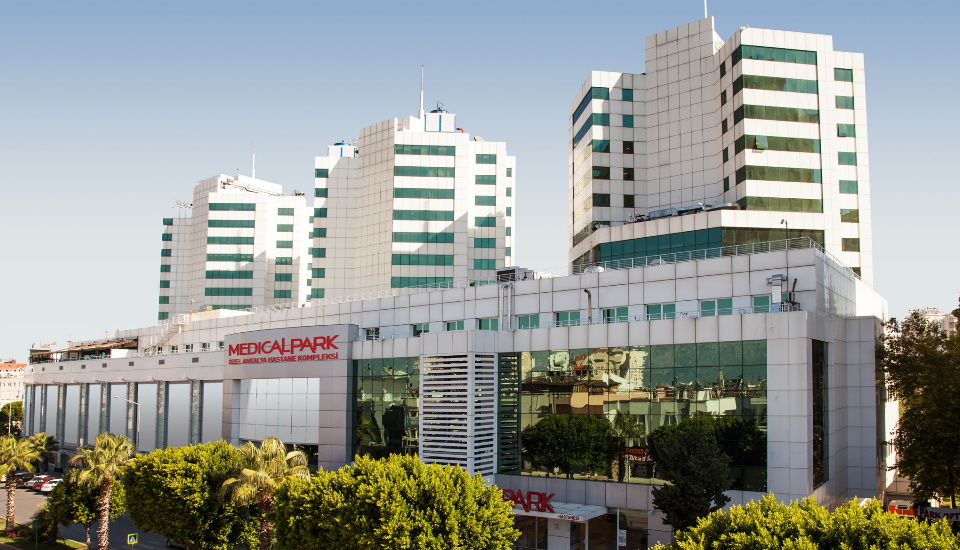 About
Medical Park Antalya Hospital
It is located in Antalya Muratpasa, the tourism and holiday paradise of the Mediterranean region.

General Promotion
Medical Park Antalya Hospital, one of the largest private hospitals in the Mediterranean Region, has 84 polyclinic rooms, a total of 228 patient beds, 39 of which are in the Heart Hospital, 73 intensive care units, 10 coronary intensive care units, 7 cardiovascular intensive care units, 22 general intensive care units, 34 provides services in 33 medical branches with its 10 operating theaters equipped with neonatal intensive care unit and organ transplant surgery standards.

In addition, the hospital, which has the honor of being the center that performs the highest number of organ transplants with the lowest rate of side effects in Turkey, on the one hand, high-level medical service units such as organ transplantation, bone marrow transplantation, medical oncology, radiation oncology, immunology, on the other hand dermatology- It provides services with many specific units that complement each other, such as aesthetic center, hair transplant unit, nutrition and dietetics, psychiatry and psychological counseling.

Medical Park Antalya Hospital provides service with its internationally recognized academically qualified physicians in the oncology-bone marrow transplantation unit equipped with advanced technology devices such as nuclear medicine, LINAC (Linear Accelerator Radiotherapy Unit), PET/CT.
Branches
Oral and Dental Health, Emergency Service, Allergy and Immunology, Anesthesia and Reanimation, Nutrition and Diet, Biochemistry, Neurosurgery, Check-Up Home Immunity Test, Pediatric Surgery, Pediatric Immunology and Allergy, Child and Adolescent Psychiatry , Pediatric Infectious Diseases, Pediatric Infectious Diseases, Pediatric Cardiology, Pediatric Hematology, Dermatology (Skin), Infectious Diseases and Microbiology, Endocrinology and Metabolic Diseases, Physical Therapy and Rehabilitation, Chest Diseases, Thoracic Surgery, General Surgery, Eye Health and Diseases.
Gastroenterology, General Intensive Care, Interventional Radiology Aviation Medicine Center, Hematology, Internal Medicine (Internal Medicine), Cardiology, Cardiovascular Surgery, Ear Nose and Throat, Gynecology and Obstetrics, Laboratory Services, Medical Oncology, Microbiology, Neurology, Nephrology, Nuclear Medicine , Neonatology Orthopedics and Traumatology, Organ Transplantation, Psychiatry, Plastic, Reconstructive and Aesthetic Surgery, Psychology, Rady ology, Radiation Oncology.
Rheumatology, Hair Transplant Clinic, Medical Genetics, Urology, Neonatal Intensive Care services are provided.
Medical Park Antalya Hospital serves its patients with 99 physicians, each of whom are experts in their fields, and their staff.
Medical Park Antalya Hospital Complex, which is rapidly recognized in the international arena shortly after its opening, carries its medical services beyond the borders within the framework of the agreements it has made with more than 200 domestic and foreign insurance companies.

Medical Park Antalya, the aviation medical center located in a limited number of hospitals and authorized by the General Directorate of Civil Aviation, has been conducting 1st, 2nd and 3rd class health examinations of all aviation personnel, especially pilots, since 2011.

By car, Antalya Airport is 14.7 km (25 Minutes), Antalya Kaleici (Old Town) is 6.1 km (17 Minutes), Duden Waterfall is 5 km (14 Minutes), Terra City Mall 1.4 km (2 Minutes), Antalya Museum is 10.2 km (19 Minutes) and 11.7 km (20 minutes) from Lara Beach.
Image Gallery
Get your free consultation