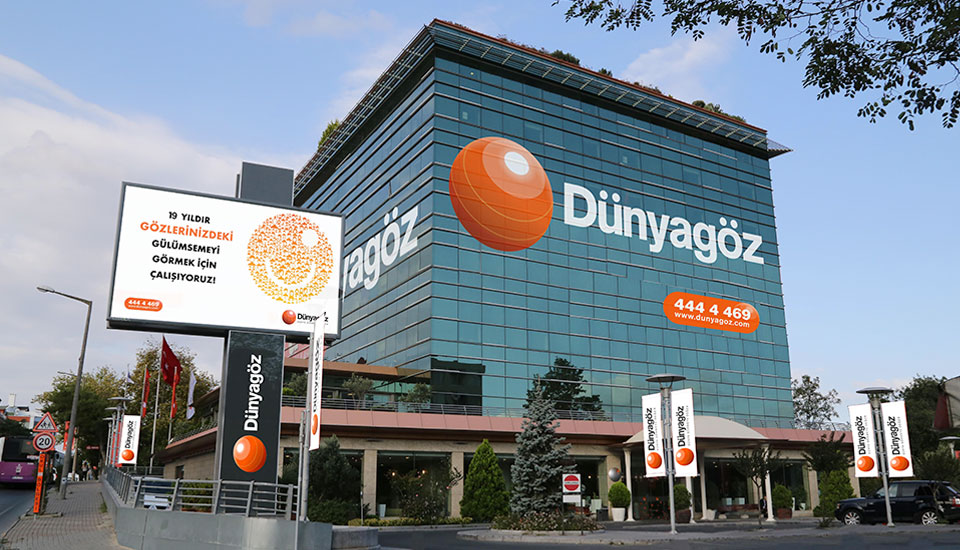 About
The hospital group Dünyagöz Hospitals, founded in 1996, specializes in ophthalmology and eye diseases. The 14 branches in the 8 provinces of Istanbul, Ankara, Antalya, Izmit, Adana, Samsun, Gaziantep and Bursa as well as the 4 foreign branches, among others in Germany, Holland and England, offer solutions for all eye problems with the most modern treatment methods and the latest technology.
General Promotion
Thanks to the latest technology as well as the experienced 150-member team of doctors, supported by 1,500 specialized employees, the hospital group was able to gain a place among the few leading centers worldwide in a very short time. Today, the Dünyagöz Hospital Group ranks first in health tourism. Around 30,000 foreign patients from 107 countries are treated in the hospital group every year.
In June 2007, the Dünyagöz Hospital Group opened its branch in Etiler, the elite district of Beşiktaş. The hospital impresses with its view of the Bosphorus and the historical sights of the city. It is only a 10-minute drive from the famous Çırağan Palace, which dates back to the Ottoman Empire and is now used as a luxury hotel, as well as from the Beşiktaş Pier, and in half an hour you can reach Beylerbey Palace, the former fortress overlooking the entire Bosphorus.
Depending on traffic conditions, the travel time from Istanbul Airport is about 40 minutes.
The modern 12-story building includes 30 examination rooms, 50 patient rooms with views of the Bosphorus and nature, and 10 operating rooms equipped with the latest technology, 3 of which are specially equipped for laser surgery. The clinic, which has a capacity of 600 examinations, 150 major eye surgeries and 100 laser treatments per day, uses only the latest equipment for all examinations and procedures.
All treatments in all areas of eye diagnostics and ophthalmology are offered. As in all branches of the Dünyagöz Hospital Group, the well-being of the patient is the top priority.
Dünyagöz Etiler, where all operational processes of Dünyagöz Hospital Group take place and all investment decisions are made and implemented, is considered the locomotive of the hospital group and is one of the leading branches of Dünyagöz Hospital Group in the field of health tourism.
Image Gallery
Get your free consultation